Spring time in North Carolina is breathtaking. The blossoming trees, green shrubbery, and "pleasantville" temperature all make for an incredible picture perfect movie scene. It is honestly my favorite time of year...even in Florida ;) It is also the window in which I can see summer....my MOST favorite time of year. The amount of make-up lessens, bright nail polish comes out and everyone's relaxed vibe takes me right back to a Kenny Chesney song...there is nothing like it!
In my MakeUp bag....
I have racked up on a few of my favorite items this past week. For a gal on a budget I've learned whats important and whats not ;) I am as white as a ghost so sunless tanner is the most important thing when it comes to wearing fun summer dresses and tank tops. This chick burns like there is no tomorrow.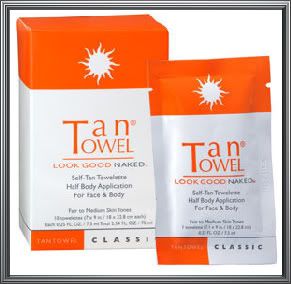 Tan Towels are AMAZING! Use in circular motion and concentrate on even coverage and you will have NO STREAKS! The color is fab and never orange. If you want to be darker you simply use a towel a day until you have reached your desired tone. Be sure to gently exfoliate skin before hand. I use just one to preserve and only cover the major areas; arms, shoulders, decolletage, and legs. It makes your product last longer therefore getting more bang for you buck! Stay away from DOVE products while using sunless tanner. They contain mineral oil and other ingredients that eat away at the DHA found in sunless tanners that actually provides the change in pigment. Wash your hands right after and you are good to go! No standing around waiting for it to dry...you are ready in less than 3 minutes!
Right now...my favorite mascara. I love the black-brown tone and it layers so well. Swivel the brush at the base of your lashes and work through with the same movement as you coat the entire lash. Do your next eye and then return to your first eye and repeat. Two coats provides amazing volume without looking spiderish...so wonderful! Even if I don't wear make-up for the day I never leave the house without mascara. L'Oreal sells most of their mascaras in packs of two...perfect for keeping one in your purse or carry all.
OPI D.C. Cherry Blossom...so not a new color...but my go to right now. It is perfectly fuchsia. Cherry-Pink that is politically correct...not that I am too concerned with being p.c. these days ;) It doesn't turn coral and has no hint of red. I call it Betsey Johnson Pink....I swear she should have her own line of OPI colors...it would be AMAZING! Just a trick I learned from my sister-in-law's manicurist...Apply a base coat and a top coat before you apply your nail color. It helps to prevent chipping. Apply 2 coats and follow again with your top coat. I am not sure exactly why it works so well, but girl it works!